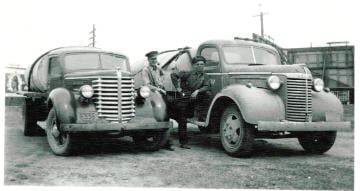 C.S. Day Transport has been operating in Saskatchewan for over 80 years. The company was started by Chester Day who first started hauling fuel in 1936. After returning from serving overseas in WWII Chester continued in the trucking business, first in Medicine Hat and then in Moose Jaw where he returned to hauling fuel from the British America (B/A) refinery and later the Co-op refinery in Regina. Chester was an innovator, always looking for ways to improve the efficiency of his operations. He was quick to adapt new technologies where he felt they would benefit his company. He built one of the first train units used to haul fuel in Saskatchewan. Chester was always very active in the Saskatchewan Trucking Association and served as the organization's president in 1962-63.

Chester sold his business in Moose Jaw to Trimac Transportion in 1964 who relocated him to Regina to serve as terminal manager. The following year he was transferred back to Moose Jaw with Trimac. Missing the satisfaction of operating his own company, Chester left Trimac in 1967 to pursue an opportunity to haul merchandise and bulk feed for Federated Co-operatives in Saskatoon. A few years later he purchased the fuel hauling assets of Larochelle Transport in Regina and operated both operations. In 1971 the merchandise operation in Saskatoon was sold and Chester consolidated his operations in Regina. Chester sold his business to his son Dennis Day and step-son Doug Colhoun in 1988.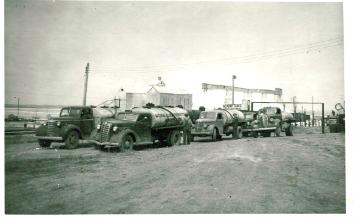 Dennis and Doug have continued the company operations in Regina where they have grown to become the largest lease operator for Federated Co-op's fuel fleet. As they enter semi-retirement C.S. Day Transport is now being managed by one of Dennis's daughters, Heather Day, and Operations Manager, Peter Reeves.

115 Henderson Drive - Regina, Saskatchewan - S4N 5W4 - Phone (306) 721-5966 - Fax (306) 721-5965 - Email daytran@sasktel.net